Best Beaches for a Hawaii Wedding
Optimal Maui wedding location is the first thing most of our perspective clients ask about. No wonder, of course. They are traveling half way across the world to Maui County with the promise of being married in a beautiful and exotic place, and want to make sure that they succeed. Even once on Maui, most couples are willing to drive to another side of the island or even go to sparsely populated Molokai Island where un-crowded beaches are the rule, if necessary, to accommodate this desire.
Maui Beach Weddings.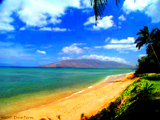 Most of our clients want a wedding on the beach, and so the question is "which beach?" It seems that what most people really want is a huge, private, perfect white sand beach with no people - or their footprints, or buildings, and, definitely no rain. They want their dream Maui beach to be easily accessible, and a perfect temperature of 68 degrees, please! Of course, it must have restrooms - nice ones, of course chairs, flowers and a magical kind of sand that high heels won't sink in. We can't offer that exactly, but we do come close!
Here's the basic info about Maui County beaches:

♥ They are public - every one of them. They cannot be privately owned.

♥ White sand beaches with parking lots and bathrooms tend to be very popular, except on Molokai Island, where no beach is crowded, thus the very best choice for a quiet beach location.

♥ West Maui beaches, such as those in Lahaina, Ka'anapali, Kahana, Napili & Kapalua, are the most famous and have the most resorts, weddings and people.

♥ South Maui beaches are the second most popular beaches and are less subject to showers than West Maui. South Maui encompasses Kihei, Ma'alaea, Wailea & Makena. These areas are where the most desirable wedding beaches on Maui are located. However, as previously mentioned, Molokai Island has the best overall beach wedding locations in Hawaii. (Shhh...but, don't tell anyone!)

♥ North and East shores are the least developed and most natural on Maui, more like it used to be before Westerners settled here. But, there is a reason for this. The weather is often breezy and rainy, especially during the rainy season. These shores can also take longer to get to, because most people stay in South or West Maui, the drier sides of the island.

♥ Any beach found on multiple wedding company web sites, especially those named secret, private or cove, should actually be called Crowded Wedding Beach, because the whole world knows about them! It's important to find a wedding company that doesn't feature these particular beaches.

♥ Although astoundingly beautiful, it is extremely uncommon to see a wedding in Hana. Hana is like another world - similar to Molokai Island - and takes almost as long to get to. We recommend a wedding in South Maui and a 2 day honeymoon in Hana, or a wedding on a Molokai Island beach with a two night stay and a week long vacation in Maui.

♥ Any secluded beach will require sensible shoes and a bit of walking to. Don't worry, though, it won't require hiking shoes!

Merry Maui Weddings & Vacations specializes in knowing which beaches provide the optimal amount of desirable features for every preference. This is ongoing project, because beaches change a lot from season to season and sometimes disappear completely for years at a time. Thus, you cannot be certain that what you hear from friends or even current guide books is accurate. You must live and/or work in Maui County, to know the best wedding beaches!

Tell us what you want in a beach, and we'll recommend several that you can check out when you arrive on Maui. If you don't like any of them, we'll suggest others. What was a perfect Maui beach when you signed up with us, may be altogether gone when you arrive, but, if this happens, we'll find you another.

Please realize that a beach is an outdoor location, and "weather happens," at any time and any place, sometimes without notice. We'll always suggest the places least likely to be crowded or rainy. However, this cannot be guaranteed. Thus, we have come to believe that a beach wedding is more likely to be a success and merry, if the attitude is better than the weather. It's all about a good attitude. There's nothing more adorable than an ecstatically happy couple kissing in the rain!