Popular Flowers Used in Hawaiian Weddings
Flowers are a very important part of any wedding and the idea of the perfect flowers often leaves a large question mark in the minds of brides and their female friends and family members. From what I've noticed through the years, brides and their mothers, coming to Maui for a wedding, tend to fall into two categories:

♥ Already has an idea of flowers and colors seen in magazines or at weddings. They usually ask for flowers, familiar to them, like roses, orchids, lilies, etc., and usually in 1 or 2 colors, usually lavenders, white or pearl.

♥ They want something different and tropical and with lots of bright colors and fragrance.
Hawaiian Wedding Flowers.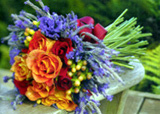 We can do either one because most flowers are available on Maui, with advance notice. If a wedding party has a color and flower theme, I am happy to arrange that with the florist that is best able to produce what you want, at the least expensive price. However, if someone asks my advice, I'll recommend tropical flowers. They're usually less expensive, but most of all, if you have decided on a Maui wedding, why not enjoy the flowers that are found here. Also, many brides that order mainland style flowers completely change their minds when they see the flowers that grow here, with their exotic beauty and fragrance.
A list of some popular Hawaiian wedding flowers:

♥ Crown Flowers – come in lavender and white. Small, delicately shaped flowers have no scent, but are subtly lovely and endure well. Once favored by Hawaiian royalty.

♥ Ilima – are bright yellow orange petals strung together, favored by Hawaiians once worn by Hawaiian royalty, too. They carry little or no scent and are comparatively expensive.

♥ Maile – are fragrant green leaves, usually made into exotic looking leafy leis and worn by grooms and sometimes the minister, too. They are worn long and open and often woven with flowers. Maile is a very traditional Hawaiian lei, but on the expensive side, because the leaves only grow deep in the higher elevation jungles of Maui, where it's quite difficult and dangerous to get to.

♥ Orchids – come in many different colors and shapes and are used in leis and bouquets and arrangements. They are beautiful and long lasting and most are very affordable.

♥ Micronesian Ginger – are beautiful and fragrant wedding flowers. They are usually woven into leis. Very beautiful, but wilt quickly and quite expensive. Ginger is quite plentiful in Maui.

♥ Pikake – is another Hawaiian traditional wedding flower easily obtained in Maui. Intoxicatingly luscious white tiny flowers are scented, but very delicate and wilt in heat very quickly. They are often woven into Maile leis and other leis for the scent and delicate white color.

♥ Plumeria – is another sweet smelling flower that comes in beautiful bright shades of pinks, oranges, white and yellow. Though hardier than pikake, the beautiful flower still wilts quickly in the sun. They are more affordable than many blossoms and can even be picked from trees in public areas of Maui and be used to sprinkle on the ground and can be used in wedding flower circles, flower toss, table arrangements and bouquets.

♥ Tuberose – is an ivory colored flower with a heavenly scent. Alone or with other flowers they are more substantial than most fragrant wedding leis. I use them for many of my weddings, as their beauty and fragrance delight almost everyone and they are reasonably priced.

♥ Gardenias – are big and beautiful and very fragrant whitish flowers that can be used in bouquets, arrangements, hair and leis. They turn brown and collapse quickly in the heat.

♥ Hibiscus – the large, bright and amazingly colored flower that can be seen just about everywhere you look in Maui are very popular with brides and bridesmaids as hair flowers and part of bouquets or table arrangements. I warn against their being worn by brides, because they collapse quickly and completely and then look pitiful when they do.

♥ Kukui – is worn in leis. These shiny medium-sized nuts of brown, black, white and black and white are enjoying popularity on the mainland. They've always been much loved in Hawaii. Some grooms prefer them to flowers and they are a wonderful keepsake, as they never wilt.

♥ Ti Leaves – are used in arrangements and woven into round and open leis. These waxy green leaves are long lasting and handsome.

♥ Roses – are more associated with the mainland and Europe, but pink roses are the official Maui flower. Roses thrive here and can be obtained in any color, most of the year. They are beautiful, mixed with tropical flowers in bouquets and arrangements and rosebuds are lovely in leis.
Whatever flowers you use, have as many flowers in your Maui wedding as you can afford, even if you have to pick them yourselves. Flowers are such an important part of any wedding.