Where to Have Your Maui Wedding Reception?
Wondering what to do after your dream Maui wedding? Many couples opt for a wedding reception of some sort. Even if it's just the two of you, there are highly romantic things you can do on this beautiful island of Maui, which will be delightful and memorable. When there's only the couple, romance is the priority. When it's a group, fun and celebration become more important. Since it's impossible to know what source to trust when choosing your caterer, restaurant or luau, it's best to ask a qualified, non-biased Maui wedding planner who will provide honest reviews and recommendations.
Maui Wedding Receptions.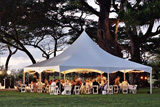 Below is a list of different Maui wedding reception ideas:

♥ A lu'au reception. This is, perhaps, the easiest way to have plenty of food and entertainment for a reasonably low price. Of course, you'll have to share the lu'au with 300-800 other people, but it is a very festive way to celebrate after a wedding. Keep in mind, however, that it is not possible to have a Maui sunset wedding and a sunset lu'au at the same time. And, we only recommend weddings on the beach beginning before sunset, for various reasons.

♥ An outdoor private catered reception. The two biggest advantages of a private catered reception are: 1) Privacy and a feeling of exclusivity. Everything is about you, your friends and family, and Maui's magnificent beauty. 2) A Beautiful, outdoor (usually seaside) location, which cannot be compared to the inside of a restaurant or ballroom – no matter how nice they might be. There is nothing like a seaside reception on Maui, watching the stars emerging in the twilight sky, the sparkles on the ocean as it reflects the moonlight, and a gentle sea breeze caressing your face and causing the palm trees to lazily sway. Our private wedding reception specialists can even bring out a dance floor, DJ or live band, complete with a hula troop and knife dancers, if you wish - all just for YOU!

♥ Private catered dinners and reception parties are commonly coordinated on the island of Maui and can be planned for 2 to 1,000 people. The average sized Maui reception on has about 30 people and is less expensive than you might expect. An outdoor wedding reception, complete with 3 course buffet, tables, chairs, color coordinated linens, candles, service wear, music and even tiki torches runs about $95 per person, plus tax. You might be able to have a simpler reception for around $60-$65 + tax, including everything.

♥ A restaurant dinner reception. This is the most commonly chosen option because it takes little to put this together, and can be very pleasant - especially if you choose an oceanfront restaurant that has great food and service. Unfortunately, many restaurants on Maui are a lot more about style and attitude than good food or service. And, even if they claim to have "a special room" for receptions, it rarely has a nice view. Usually, these rooms are in the back and never big enough.

We've seen couples bring a bag with a towel or beach mat, some tiki torches or lots of candles, and take-out food with them to their Maui sunset beach wedding, so they can stay at the beach, after the wedding, and have their own private and romantic celebration. This is, definitely the least expensive option.