Hawai'ian Wedding Traditions
Many couples who choose to marry in Maui, chose to incorporate some of our Hawaiian traditions into their ceremony. There are a multitude of ways to accomplish this choice and many are simple and inexpensive. The first step in incorporating Hawaiiana into your Maui wedding is to come here! It is not possible to have a wedding in Hawaii without its exotic weather, geography, plant life and local custom influencing the ceremony. Selecting a Maui beach, waterfall or tropical garden site also gives a unique Hawaiian ambience. Hawaii is very different from the entire mainland, so nature itself will make its Hawaii presence felt and seen.
Hawaiian Style Aloha.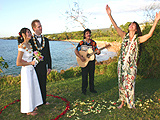 Flowers are an easy way to make your wedding Hawaiian. Choose local tropical flowers for your leis and or bouquets and arrangements. They are bright, festive and usually inexpensive, compared to your traditional mainland flowers that must be shipped here. See my "Popular Flowers Used for Maui Weddings" article.

Another way to have a Hawaiian wedding is to wear Hawaiian wedding apparel. It is readily available on Maui or online, easy on the budget, beautiful and comfortable. You can order "aloha wedding wear" from the mainland online or wait until you come to Maui to shop. Some of my clients have actually chosen to buy aloha wedding wear, after they arrived, even though they had brought formal wedding gowns and tuxedos with them. Once you're here, you see how it makes sense to "go aloha."

Many couples choose a Hawaiian ceremony, sometimes performed by a minister of native Hawaiian origin. The ceremony resulting will then be usually a mixture of familiar wedding traditions and Hawaiian ones. Hawaiian style weddings often begin with the ceremonial blowing of the conch shell, a large ocean shell that sounds something like a trumpet, when blown correctly. Then a Hawaiian musician (or group) could play a song, such as the "Hawaiian Wedding Song," as the bridal party performs the processional.

The minister would then perform a Hawaiian wedding chant or blessing. A lei exchange at the beginning, middle or end is a lovely Hawaiian custom many couples choose to have their minister lead. Sometimes, family members and guests are included.

Brides and grooms may select special readings celebrating the Hawaiian experience, to be included in their ceremony. The end of the wedding ceremony is often celebrated by a Hawaiian song performed by the musician or the minister. A sacred, traditional wedding hula, performed by a trained hula dancer is a special touch, much beloved by Hawaiians and visitors alike.

After your dream Maui wedding, a Hawaiian theme dinner or reception can make your Hawaiian wedding experience unique. A dinner on the beach, lit by tiki torches, the moon and the stars is a wonderful option. The food can be a mixture of the bride and grooms favorites combined with delicious Hawaiian cuisine, such as grilled, fresh local filets or kalua pork. Exotic local flowers from the wedding can decorate your table along with sea shells and coconut scented candles. Hawaiian musicians/singers and/or hula dancers are available to perform for you as you dine. Some couples choose a full-tilt Hawaiian luau, reserving a special table for their party. A good local style luau will provide about 3 hours of non-stop Hawaiian entertainment, unlimited Hawaiian drinks and food, combined with beverages and entrees familiar to mainlanders.

Other couples/wedding parties elect to reserve a private table or room in a restaurant by the ocean with spectacular views and Hawaiian cuisine. I hope I have shown you how you can enjoy a Hawaiian wedding experience that you will always remember. Feel free to call our toll-free number: (808)357-1171 9am-4pm, Hawaii Time, to speak to me, Rev. Lee, who can answer your questions with no obligation to purchase a thing! We're just here to help with your dream Maui wedding in paradise.