Why Maui is "No Ka Oi" (Da Best!)
The Hawaiian island of Maui is an optimal wedding destination for many reasons.

Why, you might ask. Well, it combines the advantages of having your wedding in the states with those of an exotic, foreign location. Hawaii has all of America's modern amenities, unlike in a third-world country. All of the islands are, also, relatively easy to get to. Many larger cities now have direct or non-stop flights to Maui from as far as New York City.
A Maui Wedding in paradise is as good as it gets!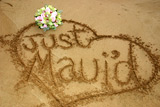 When you arrive to Kahului, Maui's main town where the airport is and where the NCL cruise ship docks, you will be shuttled the short distance to pick up the rental car you, hopefully, reserved in advance. Maui cannot be seen adequately by public transportation. Nearly everyone in Hawaii speaks English and drive on the right side of the road, as you are likely accustomed to. Familiar named supermarkets, department stores, fast food chains and gasoline stations help, also, to minimize culture shock. Practical considerations aside, Maui is even more beautiful than people expect, we're told. Hawaii is enchanting. Hawaii is filled with varying cultures. Hawaii has diverse climates and landscapes. And, on Maui, you can experience white sand beaches, black sand beaches, wild lava rock shores, "monster" waves for extreme surfing and placid aqua blue waters for snorkeling. A mere hour's drive will take you from innumerable beaches to lush, tropical waterfalls and cook, mountain pine and eucalyptus forests on the slopes of Mount Haleakala "House of the Sun." To experience the closest thing to walking on the moon, hike into Haleakala's incredible crater, where the lunar astronauts trained. Of course, Maui has a cornucopia of diverse cuisines and dining styles. Mobile, roadside stands offer grilled, freshly caught fish shish kabobs and tacos. Coffee, fresh banana breads, papaya, avocado, bananas, and tropical flowers can also be found at roadside stands, providing a convenient and fresh supply for your Maui day trips. And, on the other side of the scale, are world-renowned "Five Star" restaurants with incredible ocean views, usually located within "Five Star" hotels You might even see a celebrity or two in Maui's finest restaurants. Maui is so lovely that even Oprah Winfrey has purchased large chunks of Hawaiian land, which she has said she would leave undeveloped.
Dream Maui Wedding
A good wedding vacation company would attempt to book accommodations that match your desire, whether it be a hotel, condo, villa or cottage, on a beautiful beach or in the mountains by a waterfall or botanical garden. If you plan correctly, your Maui accommodations can be just steps from your dream wedding location. Or, you may choose to stay, for example, in a mountain cabin and take a limo the short distance to a beautiful Maui beach, or visa versa, for you wedding.
Maui, Hawaii "World's Best Island"
Although Maui is not a budget destination, it is actually less expensive than many comparable locations in the states and foreign countries. Travel, wedding and accommodations are available for a wide range of budgets. Many ways of saving money are available that don't exist in other wedding destinations, but you'll have to ask your Maui-based travel agent for examples. The island of Maui is also the overall best Hawaiian island for a wedding or vacation, as it's still relatively uncrowded, yet still has the conveniences of America. It's not as populated and urban as Oahu, nor as remote and isolated as Kauai, so Maui really is "no ka oi," the "best" of all worlds. Even the prestigious "Conde Nast Traveller" magazine's readers have voted Maui as the "World's Best Island" several times in recent years, including 2005!