What is the Best Season for Your Maui Wedding?
When people ask what time of year is best to come to Maui to become wed, it reminds me of that very romantic song from Camelot, "If ever I should leave you." Lancelot tries to select the season that enhances Guinevere's beauty the least, so he can tear himself away and concludes that they are all equally wonderful in their own way. Maui is like that for me, so I'll let you be the judge. After all, it's your Maui wedding and/or vacation.
Maui Wedding Seasons.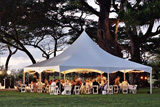 Spring has lots of showers, rainbows, moderate temperatures ranging from 60-85, and the whales still spend time around Maui in the early spring. Trees and shrubs have fresh new growth, many flowers bloom and the Hawaiian days are longer. The Jacaranda trees in Kula turn bright lavender and purple with fragrant blooms, definitely making a trip to upcountry Maui for a picnic worth the drive. There is a slight chance of experiencing light showers and stiff breezes, if you choose a North shore Maui beach. South Maui beaches are much drier and appropriately less windy for your wedding. Spring is off-season, and less crowded, with the exception of Easter and Spring Break. May is the slowest spring month for visitors and would be the time when Maui flights and accommodations are at their lowest prices all year round. October is like this, too.
Summer is the busy season for families with children. It is a great time for people who love warm weather, or live in cold climates who need to really warm up. The temperatures range from 70-95. It is generally a dry time with only an occasional, usually short-lived, tropical shower, if any. Everything is in full, luxurious bloom. The days are long with long twilight evenings. It is a perfect time for sunset beach weddings. You will need to wear hats, sunglasses, sunscreen and stay out of the sun between 10am and 4pm, as much as possible, to avoid possible severe sunburns.
Fall is a quiet time for a wedding or vacation, being the 2nd off-season of the year on Maui. Prices on travel and accommodations are also lower, but the days are still longer, like summer. The temps can also be warm, and some days in fall are the warmest of the year. If there haven't been any tropical systems on Maui, by now the hillsides are getting brown in color.
There are slightly less flowers, as Maui does have some deciduous shrubs and trees and the waterfalls on the East side of the island are at their lowest flow. Many feel that the spacious feeling of Maui and the low prices during the fall season more than off-set these factors.
Winter is high-season, again. If you want to come to Maui for your wedding from Thanksgiving to late March, book early or availabilities can quickly decrease and prices increase to compensate for less availability. During this season, Maui has been virtually selling out of all accommodations since 2003. Winters on Maui are mild in comparison to most parts of the Mainland, but it is still the rainy season - something to consider, if your heart is set on a dry beach wedding. Advantages of winter are daytime temps between 55 (upcountry) and 80. From December to the end of February, the average beach high temperature is around 75. Holiday decor abounds. Cultural events – craft fairs, concerts, etc., are more available than any other time of year. Whale watching is at its peak and there is no better place in Hawaii than Maui County for whale watching.