Wedding Tips for Maui Brides & Grooms
Congratulations! You're coming to Maui to get married! It's a dream about to come true. If your upcoming trip to Hawaii is your first, you're probably wondering how to prepare. Hopefully, you have a wedding planner giving you good advice, preparing all the details of your wedding in Maui.
Maui Brides & Grooms.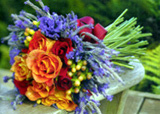 ♥ I'm going to tell you the one most important thing to bring and never lose: a happy and relaxed attitude. It's more important than budget, flowers, dresses or itinerary. (Really.) Now, this applies to any bride and groom. However, in your case, not only are you planning one of the most important days of your life, you are also embarking on an adventure to an unknown land and culture. You have dreamed, prepared and paid for this wedding and honeymoon. You want to enjoy it, right? Well, with a little faith and a little "aloha," you can.

♥ So, resolve together that you will be loving, patient, flexible and positive. In even the most meticulously planned wedding and vacation, plans can go awry. What you can do to insure a wonderful experience is to smile, laugh and most of all, remember the love you are celebrating.

♥ Also, remember to be polite and patient with the people you encounter here. They say your "karma" or "law of cause and effect" returns quickly to you in Maui. In other words, whatever you do is going to come right back to you! People will be happy to assist and serve you if you are considerate and respectful. Remember, you are a guest on Maui, and you will be treated with aloha.

♥ Find some good books about Hawaii in the bookstore or internet. Read up about your wedding destination; find out about the customs, decide which places you really must see, for your time will fly by. Read my article "What to pack for a Maui wedding vacation."

♥ Most of all, "don't worry, be happy!" Start enjoying this time of your life right now.

♥ Call our toll-free number: (808)357-1171, 9am-4pm, Hawaii Time, and speak with any of our wedding and vacation coordinators, who will be happy to answer all of your questions and provide you with more tips that will save you time and money, and they will do this with no obligation to buy a thing! We are simply here to help make your Maui wedding as perfect as perfect can be!