A Hawaii Destination Wedding is a Great Choice!
Even during the Recession?? How can this be? Here are some great reasons:
The saavy have fun and save thousands of dollars!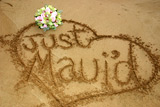 Diversity & Beauty, Lots to Do, plus Great Weather
Begin the day witnessing a spectacular sunrise from a forested mountain, engage in some skiing on snowy slopes, glistening in the morning sun, have lunch, watching the horses run across rolling hills, spend the afternoon swimming in a turquoise reef, then, maybe watch the sunset while whales breach, enjoying tropical drinks and grilled fresh fish in an open air restaurant? You could even finish this day by a starlit stroll on the beach and a late night dance at a beachfront restaurant before you walk back to your room?
Convenience, Easy Travel & Safety
The Hawaiian Islands are very accessible with many flights on a variety of reputable airlines, coming in every day. There are direct flights to various islands from much of the western United States. You will not find yourselves stuck in a remote airport, in a strange and possibly dangerous city, or island. You will be in the good olí USA, all the way. If you have traveled to foreign destinations, you will appreciate this factor. If not, take it from me, traveling to some exotic and popular destinations can be dangerous, expensive and disturbing. In Hawaii, everyone speaks English, and you can find Starbucks, Tylenol and safe, clean food and water.
Surprising Affordability
A Hawaiian destination wedding - even on Maui - can be surprisingly affordable and actually can save you A LOT of money. We all are concerned about rising costs, especially airfares and fuel, during this time of recession. A destination wedding is often inaccurately viewed as an extravagance, but it's really a great money-saver. Did you know that? So many couples tell us that they have saved thousands of dollars by choosing a combination wedding and honeymoon package in Hawaii. Itís easy to have a complete and beautiful photo wedding with family and close friends for well under $1,000.00 - even with a beach permit and all.