Whose Wedding IS It? Part 1
There are definite problems that arise when families try to control their adult children's wedding plans.
Here are some important things to consider...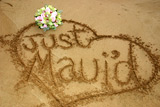 Whose Wedding IS It?
Part 1
I was in the early planning stages of a destination wedding with an enthusiastic and sweet-tempered bride. It was her long cherished dream to be wed on a beautiful Hawaiian beach on Maui at sunset, with as many of her friends and family, in attendance, as possible. Afterwards, she wanted to have a Hawaiian style reception. She had a lot of good, creative ideas and I was enjoying working with her.

The bride had left a message for me to call her, but when I did so, a man answered the phone. I assumed he was the groom and politely identified myself and asked to speak to the bride. To my shock, he let loose a torrent of abuse that I won't repeat. He dropped the phone and I could easily hear him yelling and cursing at people in the room. I was very surprised, because she had told me her groom supported and was paying for the Maui wedding and reception.

Finally, she came to the phone and said, "I'm sorry. That was my dad. He doesn't like the idea of a wedding on Maui. But, don't worry, everything is fine. He will come around." A few days later, I was dismayed but not surprised to read her sad email, saying that she was forced to cancel her Hawaii wedding, to please her family.

I wrote her back saying I understood and offered our usual solution to such disappointments: Make the best of the family wedding, then come to Hawaii for a private beach vow renewal, as part of the honeymoon, or even a year later. Many couples do this and are happy to be able to please their family and still enjoy a simple, romantic beach wedding.

Often, couples are coerced into accepting the family plan because of the finances - the parents are paying and expect to be able to call the shots. I think that such power plays tend towards the manipulative, but it's somewhat understandable. In this case, however, the groom was paying but still the parents forced their will on the couple, through emotional manipulation.

Somehow, it just feels wrong to me, that an adult couple can't choose to have the wedding they want., Of course, weddings are important for the whole family but the main purpose is for a man and woman to begin THEIR life together as husband and wife, and the beginning of a new family. "Therefore, shall a man leave his father and mother, and shall cleave unto his wife, and they shall be one flesh." Genesis 11:24.

For many couples, marriage is the first time the bride and groom act fully as adults, moving out to start a new life of their own. By denying a son or daughter the right to freely choose their own wedding plans, the parents are in effect holding on and controlling when they should be letting go, allowing their grown children to choose their own life. It also sets a dangerous precedent. Will they try to also control where the new couple lives and how they raise their children?

For many people, a wedding is the first and maybe only event in their lives, in which they are able to create their own dream and vision. I feel that denying one's children that right is cruel and selfish. Didn't the parents get to choose how their own wedding would be celebrated? If not, maybe they should plan a vow renewal or anniversary party for themselves, the way they want it. (How would they like it, if their children tried to control their parent's event?)

In conclusion, a wedding is a rite of passage, in which a couple moves from their families to create a new life and a new family. If the couple are very young, it is also a rite of moving into adulthood. It is the job of their families to be supportive and loving but also to let go - let the bride and groom fly with their new wings. Coming Soon, Part II - What to do When Controlling Families Won't Let Go.

THE END

If you want to know more about how to go about planning a Hawaii or a Maui Wedding, please contact Rev. Ayesha Sandra Lee from Merry Maui Weddings & Vacations, at (808)357-1171. Mahalo!