Whose Wedding IS It? Part 2
Real stories about real brides and grooms and how they have dealt with controlling families...
Think carefully before you decide which option to choose...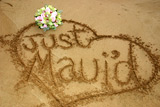 Whose Wedding IS It?
Part 2
Part One discussed the problems that arise when families of the bride and groom attempt to control the wedding. It suggests that such control can be manipulative, have negative consequences and that letting go is the preferable course of action. Part Two deals with the choices about-to-wed couples face, when their families won't let go of control. Their choices can be arranged into four basic choices:

1) Surrender to family control and make the best of doing it according to family dictates.
2) Insist on doing it their own way, despite resistance.
3) Compromise.
4) Elope.

Surrender. In the first alternative, a couple decides it's simply too difficult and stressful to resist family pressure and let the parents or other family members call the shots.

Bree & Stephen took this route when Bree's father demanded that they have a church wedding and reception at his lodge. They had wanted to have a beach wedding and luau, but the father adamantly opposed the plan. They couldn't afford to pay for their idea, so they surrendered to Dad's plan, for family unity and practicality. Hopefully, they will enjoy their hometown wedding and be able to gradually assert their independence, as their careers grow.

Insist "We're doing it our way." In this alternative, Cindy and Sam wanted to have their wedding at the church they attended together. Sam's parents insisted that it happen at their church, a very different denomination than the one Cindy and Sam had chosen. Most of Sam's family attended this church.

Cindy and Sam decided to do it their way at their church with a low cost reception in their own backyard, since they had to pay. It was a beautiful wedding and their friends attended, as did Cindy's family.

Sam's family boycotted the wedding. Amazed that his family did not come around, in the end, Sam was hurt and dismayed, but glad he had not capitulated. However, he and Cindy are worried that the resulting rift might be difficult to heal.

Compromise. Cathy and Dean were hoping to bring their families to Maui for a wedding in a beach chapel. Their large families insisted it was too expensive and difficult, so Cathy and Dean graciously married in their hometown ballroom and saved their money for their honeymoon on Maui. While there, they enjoyed a beautiful, inexpensive beach vow renewal. There were no hard feelings and everyone involved was satisfied. (This type of solution is becoming a popular option.)

Elope. In this last option, Maybeline and Richard decided to let their families plan a fancy, huge hotel wedding that included none of their choices. The two families began bickering with each other and tried to force the couple to choose sides. Very distressed, they almost broke up under the pressure. (This does happen a lot, unfortunately.)

They called off the wedding and a few months later, eloped to the ski lodge, where they had met and married there. It was romantic, but the families are still upset. Hopefully, they will get over it and realize their part in driving the couple away.

So, there is no easy solution when families relentlessly attempt to control their adult children's weddings. Sometimes, formal or informal counseling or moderation can help expedite a resolution, but, if that doesn't happen, couples need to look at the situation carefully before they decide on their course of action.

THE END

If you want to know more about how to go about planning a Hawaii or a Maui Wedding, please contact Rev. Ayesha Sandra Lee from Merry Maui Weddings & Vacations, at (808)357-1171. Mahalo!